» SENSING LANDMARKS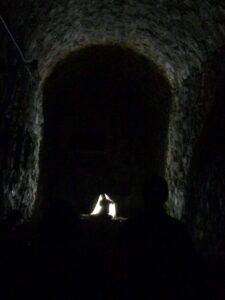 SENSING LANDMARKS
Sensing Landmarks is a continuation of the projects Gold All in My Veins and Baroque Architecture and Submission. The performance is a multidisciplinary and multisensory investigation into diverse architectural sites carried out by a group of artists from multiple disciplines. The project uses art in order to find new perspectives on history and architecture in three Nordic countries. The project takes its starting point in different historical time periods such as the Romantic era, the Industrial Revolution and the Baroque era in order to investigate how in each time period, the human body was understood differently.
The work uses the guided tour format to rethink our environment and through that to rethink our understanding of ourselves. The method challenges notions about how we experience the world through our senses. It raises questions about how history expresses itself in our bodies. A dialogue with the local communities forms a key feature of the project. The group continuously invites local inhabitants to share their knowledge about the sites, so that local artists, researchers and specialists from the regions can be a part of developing the guided tours.
The group carries out multisensory guided tours in Helsinki, Bergen, Vaasa, Stockholm and many more. For each site they develop specific scripts, choreography, music, videos, scenography, food and drink to create experiences for the five senses. The project focuses not only on reuniting with our physical, but also with our social and national surroundings. It offers exciting and experimental platforms that will help togetherness, the rediscovery of old stories, and the discovery of new potentials in those.
Suomenlinna: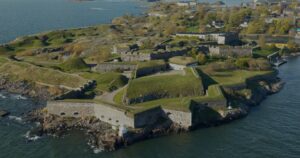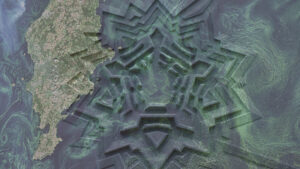 The group began their collective investigations at the Nordic Culture Point's facilities at Suomenlinna, a sea fortress and Unesco World Heritage Site built on eight islands near Helsinki. Here they investigate the monuments, bastions, squares, tunnels and the surrounding nature as wells as new reconstructions such as saunas and meeting halls of the old military buildings. The work is an opportunity to find new perspectives on Suomenlinna unique architecture and history in a creative and innovative way. The group invites local people to participate in the creative process who have specific knowledge about or who feel a sense of love for the place. The work process is thoroughly transparent with ample scope for improvisation.
With: Choreographers: Carima Neusser (SE) Sara Gurevitsch (FI) Composer: John Andrew Wilhite-Hannisdal (NO) and Visual artist: Carola Uehlken (DE)
Guided tours Suomenlinna:
October 8 and 9, 2021
The project has been developed in partnership with MKP and Vision Forum. The project is funded by The Nordic Culture Fund and The Nordic Culture Point.