» News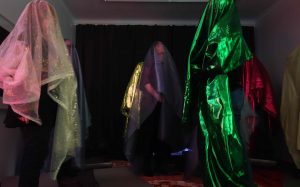 "The Artist Home Away" reflects on what the artist's role could or should be in contemporary society as well as how the dialogue between artist and their audiences can become more dynamic. It does so from the perspective of how we look at work, private life and how the two interact. The artwork is presented at "Vallastaden 2017," an international architectural expo that looks for dynamic solutions for future living.
Selected events from the program:
– Sixten Nielsen from Human Hotel lectures and works with students from Linköping University.
– Installtaions and presentations by participating artists Lise Yuen Kolstad and Li Xiaofei,
– Carima Neusser,  Siri Jennefelt. and Per Hüttner perform for and create workshops in dialogue with students from Linköping University.
The project is organised with Tomorrow's Art Audience,  supported by Linköpings universitet, Nordic Culture Fund as well as 1/17 Volt. More info here.
Tomorrow's Art Audiences is an ongoing research project that investigates how the methods of contemporary art can revitalise education and learning among the young. We are collaborating with young creators at St. Eriksgymnasiet and Kristofferskolan in Stockholm. We develop new methodologies in cooperation with Lars Palm at the Linnéuniversity. We acknowledge that all private and public sites have different layers of stories. Some are obvious, while others require closer scrutiny to become visible. The project shows how artistic methods and strategies can be used in a site-specific survey where hidden stories are made visible. The process thus shows how we can create an understanding of our world. There will be public presentations at Hallwylska museet in central Stockholm, September 20, 1-7pm.