» SCULPTURAL SPACES, CALDAS DA RAINHA, PORTUGAL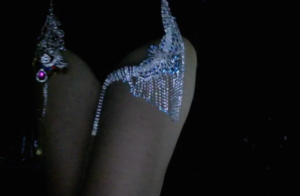 Carima Neusser will perform her solo piece Sculptural Spaces at Igreja do Espírito Santo in Caldas de Rainha in Portugal. Neusser's current research project stems from a curiosity in architecture in relation to performance and the body as an architectural landscape. The work is based on ongoing spatial investigations where Carima Neusser brings together movement, stage lights, water, glass, jewelry and video to create performative sculptures. It is in the field of tension, in the meeting between these different elements that her choreographic exploration lies. She is interested in seeing how these materials refracts light and how it creates reflections in the space and thus creates new rooms. Due to Covid-19 restrictions there is a limited number of places available. To secure a seat, please contact Nayara Siler on nayarasiler [at] gmail.com.
Welcome!
Wednesday | November 4| 19h30
Igreja do Espírito Santo | Largo João de Deus |Caldas da Rainha
Free entrance
The project is a co-production between Vision Forum and Gremio Caldense.