» D1984 AT THE CABLE FACTORY, HELSINKI, FINLAND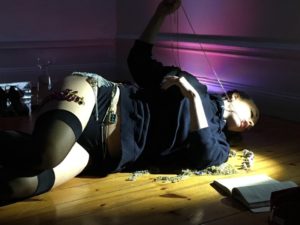 Carima Neusser participates in the Exhibition and Festival "2084" with her performance D1984 at The Cable Factory, Helsinki on October 13th at 8pm.
The exhibition draws inspiration from the book "1984" by George Orwell. The fictitious subject matter of the book was forward-thinking, and in many ways, it has become reality; think of today's use of surveillance cameras, algorithms and fake news. However, despite the dire tone of the story, notions of love and activism are also present as integral forms of power."2084″ that takes place in the present and speculates on the role power will play in the future. The exhibition doesn't aim to provide answers, but it offers narratives on the various ways power is activated today and what could happen in the years to come.
2084 is curated by Stockholm-based curator Anne Klontz
Location: Cable Factory, Valssaamo, Helsinki
Performance Tuesday, 13 October: 7 – 9 p.m.
7 p.m. 
The Power of Ontologies – Performance by Per Hüttner
8 p.m.
 D1984 – Performance by Carima Neusser
For her performance, Carima Neusser investigates the body and desire in relation to power. Extracting inspiration from the novel 1984, Neusser creates a choreography from the forbidden love affair between the characters in the story. From this relationship and the suppression of sexuality by the governing powers, love and romance surface to become a powerful form of activism.
The project is funded by The Swedish Arts Grants Committe with support from Teater Reflex, Stockholm and Vision Forum.