» BAROQUE FUNERAL AT UFER STUDIOS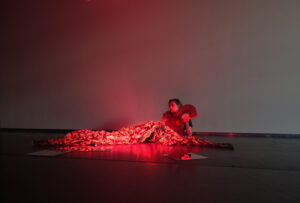 Swedish choreographer Carima Neusser has been in residence at Uferstudios during the month of August. She has been developing a series of tableaus based on a baroque poem "Schaubühne des Todes" from the 17th century poet Christian von Hoffmannswaldau. She has been researching in the studio with various dancers as well as visiting various monuments of that time in and around Berlin. For the presentation she will present a series of short scenes with two dancers along with live music and readings of the poem.
Creator: Carima Neusser
Dancers: Kasia Wolińska and Emily Ranford
08.25.2021 at 7pm
Studio 9
Uferstudios GmbH
We kindly ask you to register for the show via mail@uferstudios.com with your contact details.
Please comply to the distance, mask and hygiene regulations. Vaccination, recovered or negative test proof needed.
The residency is made possible through a funding by Swedish Arts Grants Committee International Programme for Dance – Konstnarsnamnden