» Start in the Middle at Kunsthal Charlottenborg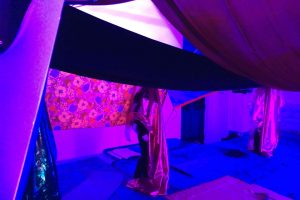 Participatory performance / Part of Dansehallernes program series Choreography in Action.
Start in the Middle, Carima Neusser, Per Hüttner, Siri Jennefelt
28 October at 7-9 pm at Kunsthal Charlottenborg, Nyhavn 2,Copenhagen K.
Free Entrance
Start in the Middle is a participatory performance that uses the formats of lecture and meditation into a seamless whole. The performers use texts, sounds, lights and contemplative exercises for the audience to participate in a collective journey where they spend most of the performance lying on the floor with their eyes closed.
Choreography in Action is program where artists and other professionals share thoughts about artistic work through conversations, installions, performances and films. New guest every Monday. The program is primarily adressed to the artists in the field but open to all with an interest. It is in English. Free Entrance.