» STAGE OF DEATH I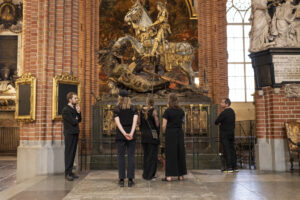 STAGE OF DEATH I
Stage of Death is a project that investigates the guided tour format and artistic works related to death, decay and architecture. Five artists presented individual works at Storkyrkan, Riddarholmskyrkan, Norra Bergravningsplatsen, in a limousine and the sauna at Hellasgården in Stockholm. The guided tour is based on the baroque poem "Schaubühne des Todes" from the 17th century poet Christian von Hoffmannswaldau. It is a part of the series Stage of Death, a research project presented in three different formats; a guided tour, a tableu vivant and a dance performance. It is continuation of Gold All in My Veins and Baroque Architecture and Submission and can be seen as a research project for Sensing Landmarks.
Concept and direction: Carima Neusser
Participating artists: Joakim Forsgren, Olav Westhpahlen, Leah Landau, Simon Blanck, Carima Neusser
The project was organized, produced and funded by Curatorial Mutiny and Vision Forum.
The Guided Tour:
First Stop: Gamla Stan
-Introduction by Carima Neusser
-"Back to the Bones" Presentation by Carima and Leah Landau
-Visit to Storkyrkan
-"Resurrection of Carolus Rex 7" Presentation by Joakim Forsgren, Storkyrkan and Riddarholmskyrkan
Second Stop: Norra Begravningsplatsen, Solna
-"I mina drömmars Mausoleum", Presentation by Simon Blanck
Third Stop: Hellasgården
– Limousine ride to Återvinningscentralen Östberga with Olav Westphalen
– Sauna story by Olav Westphalen, Hellasgården
– Dinner and drinks, Hellasgården