» LIGHT AND SET DESIGN AT DANSSTATIONEN, MALMÖ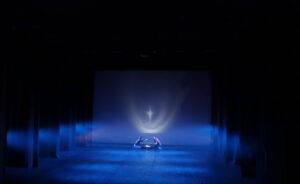 Carima Neusser is creating light and set design for the dance piece (…It is Contained In…) Neusser explores spatial investigations where she brings together the idea of movement, stage lights, water, glass and crystals to create poetic sceneries. She is interested in seeing how these materials refracts light along with the moving body and how it creates reflections in the space and thus creates new rooms. The work is a continuation of D1984 and Sculptural Spaces.
(…It is Contained In…) has its premier at Dansstationen, Malmö, Sweden, January 22nd, 2022.
Choreography and dance by Joanna Holewa Chrona och Yared Tilahun Cederlund.
The piece will tour in the spring of 2022 and will be presented at MDT, Stockholm and Atalante, Gothenburg, Sweden.