» WHAT WILL BECOME AT GALERÍA LIBERTAD, QUERETARO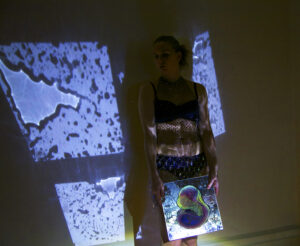 Carima Neusser will join in for an evening of performances and talks at Galeria Libertad in Santiago de Queretaro in collaboration with El Dia D on Friday, February 3, 2023 at 7pm (free entrance). She will present a performance based on her continuous research on Embryology. Neusser is looking at how what science knows about the developing human life in utero can be used to develop new forms of dance. It is a fascinating field since the development of the body and its organs are shaped by its own movements. Certain cells in the embryo's body develop in response to how other cells next to them act. This means that we can really speak of cause and effect in traditional sense, which makes studying embryolgy both relevant and interesting for the dance field.
Galería Libertad (And. Libertad 56, Centro, 76000, Santiago de Querétaro, Qro.) +52 442 214 2358
The participating artists are supported by Kulturbryggan and Helge Ax:son Johnsons stiftelse.