» STAGE OF DEATH IN STOCKHOLM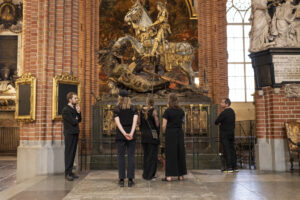 Join the Guided Tour Performance and Research project Stage of Death in Stockholm!
Stage of Death is a project that investigates the guided tour format and artistic practices related to death, decay and architecture. The Guided tour takes place in Stockholm May 21, 2021. Participating artists: Joakim Forsgren, Olav Westhpahlen, Leah Landau, Simon Blanck, Carima Neusser and Amina Neusser.
First Stop: Gamla Stan 2-4pm
-Introduction by Carima Neusser
-Back to the bones Movement – Carima and Leah Landau (secret place)
-Visit to Storkyrkan
-"Resurrection of Carolus Rex 7″/ Presentation by Joakim Forsgren, Storkyrkan/Riddarholmskyrkan
Second Stop: Norra Begravningsplatsen, Solna 4.30-5.30pm
-by car to Solna
-"I mina drömmars Mausoleum", Presentation by Simon Blanck
Third Stop: Hellasgården 6.30-22.30 pm
– Limousine ride to Hellasgården
– Sauna for all.
– Sauna story by Olav Westphalen
– Dinner and drinks at Hellasgården
Produced by Curatorial Mutiny and Vision Forum.