» SENSING LANDMARKS AT THE BERGEN SCHOOL OF ARCHITECTURE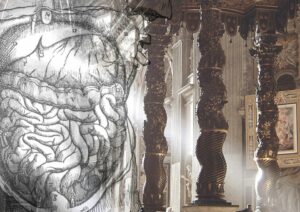 Sensing Landmarks at Bergen School of Architecture
Bergen Arkitekt skole, Sjøgaten 59
October 6 at 6.45 pm
Free entrance
An interdisciplinary group of artists present the performance Sensing Landmarks at Bergen School of Architecture.
Participating: Carima Neusser (Sweden) Yohei Hamada (Norway) John Andrew Wilhite-Hannisdal (Norway) Else Olsen Storesund (Norway) Carola Uehlken (Germany)
Sensing Landmarks brings together dance, visual art, architecture and music with the aim of creating a multi sensorial guided tour that is specific to Bergen School of Architecture´s architecture, history and natural setting. The artists have developed texts, scripts, choreography, music and scenography to guide the audience through an interdisciplinary experience with emphasis on the human senses. The collective performance takes the form of a guided tour and takes its starting point in an investigation into the concept of "Axis Mundi" – also called the cosmic axis, world axis, world pillar, center of the world, or world tree.
Bergen School of Architecture is the site for the guided tour connecting the vertical architecture of the building with the concept of the axis mundi. The tower, the staircases of the building and the sea outside connect to our bodies, our spine and our movements and take us on a journey between heaven and earth.
You will travel by boat to the Bergen School of Architecture from one of the harbours in the Bergen City Center (exact meeting point will be announced shortly.)
The project is funded by: Nordic Culture Fund and Bergen Kommune.
Production by: Vision Forum, Tomorrow's Art Audience and Ny Musikk Bergen. Special thanks to Bergen Dansesenter and The Bergen School of Architecture.