» THE DAY PORTER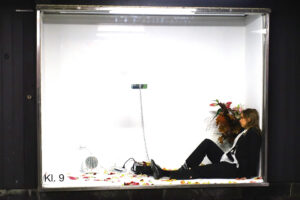 THE DAY PORTER
For 6 hours, Neusser act as the day porter of the exhibition space. Throughout the performance she is watching and screening the Italian director Liliana Cavani's legendary film The Night Porter while being chained to the wall. She investigates the interaction between her movements, the film and the people passing by her window.
The performance was a part of the ongoing project The Association for the Palliative Turn.
Performance at KL9, Stockholm, Sweden, October 22, 2021.