» STAGE OF DEATH II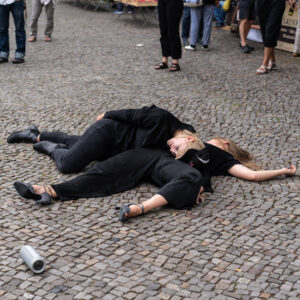 STAGE OF DEATH II
Stage of Death II took place at various weekly markets in Berlin. In the midst of market stalls and self-constructed stands the performance was integrated into everyday events. Carima Neusser and the artist Carola Uehlken were staging a still life performance inspired by a guided tour into the underworld as described in the famous baroque poem "Schaubühne des Todes" from the 17th century. Living and dead material merge into a Tableau Vivant. Bodies lie and move in and around a shabby car near the busy market scene selling fruit and vegetables. The audience is invited to witness the various physical processes between life and death while picnicking.
Performances:
Wochenmarkt Bölschestrasse, 2021
Wochenmarkt Leopoldplatz, 2021
Wochenmarkt Herrfurtplatz-Neuköll, 2021
Choreography: Carima Neusser
Visual artist and tour guide: Carola Uehlken
Created and performed by: Carima Neusser and Carola Uehlken
The performance was part of the exhibition SOLO markt curated by Lola von Geroell and Johanna Landscheidt.