» SCULPTURAL SPACES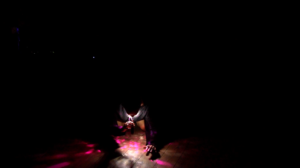 SCULPTURAL SPACES
The work is based on ongoing spatial investigations where Carima Neusser brings together movement, stage lights, water, glass, jewelry and video to create performative sculptures. It is in the field of tension, in the meeting between these different elements that her choreographic exploration lies. She is interested in seeing how these materials refracts light and how it creates reflections in the space and thus creates new rooms.
Choreography and dance: Carima Neusser
Composition and live sound: Per Hüttner
at Igreja EspÍrito do Santo, Caldas Da Rainha, Portugal, 2020
In collaboration with Vision Forum and Gremio Caldense.