» I strömmens spår, an illusory guide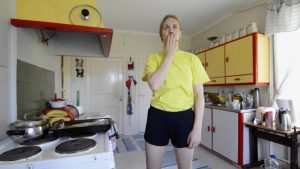 I Strömmens spår initated by scenographer Sofia Romberg, 2015 and deals with the Ålands Islands author and public debator Anni Blomqvist (1909-1990) and has mainly been planned out during two visits 2015 in her museum home, Strömmen, located at Simskäla. The working title comes from one of her novels, a discarded copy of 2014, the book worked as a catalyst for the idea to make a multifaceted project that finds it´s inspiration from her life and work.
Sofia Romberg invited artists with different backgrounds to Strömmen during the July 2016 with the task to make a piece inspired by the location. They also lacked greater knowledge about Blomqvist as a way of making the image of her and the site moore scattered. The collected material will now be designed and published with the title I Strömmens spår, En illusorisk guide.
With: Sofia Romberg, Jon Lennblad, Gabriel Bohm Calles, Kristina Janni Sthål, Minna Romberg & John William Häggblom