» ARE YOU TOUCHED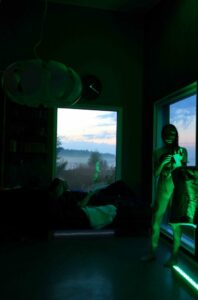 ARE YOU TOUCHED
"Are You Touched" is the title of a workshop and public performances in Ostrobothnia where Finnish, Swedish and French choreographers, visual artists and fashion designers investigate the potential of human touch for a week. Together, the artists are looking for new ways to collaborate. They develop working methods, build trust both between the group members and the audience by bringing together the knowledge that the various participants have.
The group's participants share a common interest in how the human body can be rediscovered through exercises and conversations. In the collective work, they focus on how touch can become a way of feeling and expanding the understanding of the human body.
At 19.00 on June 11, we invite the Energiverket's audience and Novia's University of Applied Sciences students to participate in the results of the work by choosing from a menu of performances and exercises.
Menu :
– Relaxation, music and storytelling: "North American Indigenous World Views and Inter-human Touch" by Per Hüttner (30 min.)
– Video – movements – video. "Princess Nature" a choreographic exercise by Carima Neusser (30min).
– "Are You Touched?" empowering you to rediscover touch in the dark. An interactive work by by Emilia Rota (10min-2h).
– Somatic perception exercise: Lung dances to the sound of mosquitoes "Soft Support of the Lung" by Sara Gurevitsch. (20 min.)
The evening is informal and you are invited to have a drink, talk to the artists and find out more about what they have done, what they have learned as well as to see performance, dance and drafts of future works in a relaxed manner. You are welcome to come for a few minutes or stay the whole evening.
Participants: Sara Gurevitsch, Emilia Rota, Carima Neusser, Per Huttner and Robert Logrell. The project is a collaboration with Energiverket, Novia Yrkeshögskola and Vision Forum. It is supported by the Swedish Culture Fund, the Culture Council and the City of Stockholm.